When it's time to replace your carpets, we want you to make a choice that you'll be happy with for many years.
We don't sell flooring. We clean and protect it so it stays beautiful and lasts longer. Let us help you make the best choice for your needs.
Imagine that you're shopping for new carpet for a few rooms. Two of the rooms are bedrooms, which don't get  much foot traffic. The living room, stairs and hallway also need new carpets. It's been almost fifteen years since your current flooring was installed, so you're eager to see the new products available.
You drive to  a local flooring store or home improvement center. The salesman has a great deal for you: A virtually stain-proof carpet that comes in many vibrant colors and is soft to the touch. You sink your fingers into it and love how it feels. So, you order this carpet for all the rooms you want to replace.
A few days later on the scheduled installation day, you remove all the furniture from the rooms and the installers show up, remove the old carpet and pad, then put in the new.
It looks great! You're happy!
Many months, spills and accidents later, you decide it's time to have the carpet cleaned. We show up and do a great job removing the dirt. Even the spots come right out! However, there is a "worn" area in the entrance, on the center of the stairs and down the hallway. Only the bedrooms look brand new. You ask your technician why this happened. He performs a fiber identification test and informs you that you purchased polyester carpet, which tends to matt down in high traffic areas because it lacks resilience. He gently informs you that if you had purchased nylon or wool carpets (Yes, they are more expensive.) you probably wouldn't have this problem.
You're not happy anymore! You are upset! You hate it when you spend your hard earned money on something and it doesn't perform as promised. A carpet salesperson may not be your best source for good advice when it comes to which carpet to buy.
Before you go looking for new carpet or furniture do your homework and give us call. We do not sell these items nor will we recommend a retailer.  But we will arm you with information that can help you choose the best products for your needs and budget.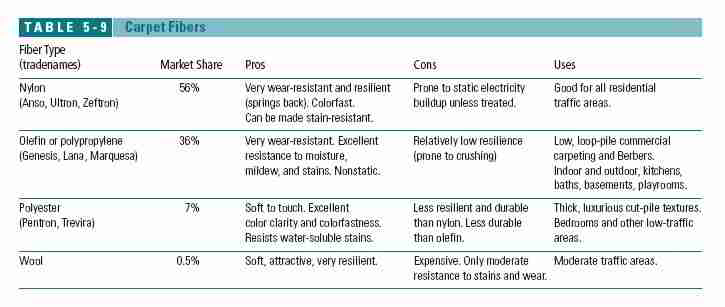 Both charts are from : http://inspectapedia.com/index.php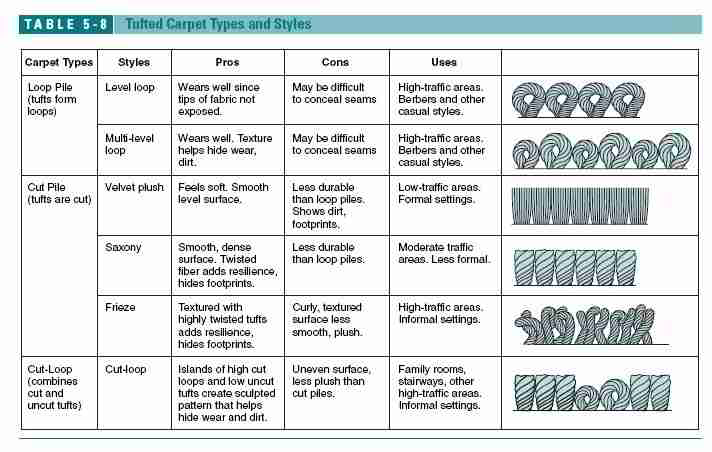 Choosing flooring and furniture that lasts doesn't just save you money, time and aggravation. It helps our planet by not adding even more waste to the  2.6 trillion pounds of garbage produced every year.